Let's Break It Down: Project Grants
Since the beginning of project grants in the fall of 2013, we've been astounded by the quality of submissions we've received. The work we see each round reminds us of how hardworking, talented, and ambitious our field is. The 558 projects we have awarded thus far represent only a fraction of the artists we serve. There are hundreds more fabulous projects we see each round and we deeply wish we had the money to fund them all. We're working hard every day to increase funding for project grants so more of these deserving projects can be awarded. Even if your project is not awarded, by applying you help demonstrate the great quality, depth, and breadth of projects to funders and communicate the imperative for more funding for the arts.
To date, we have awarded $2,866,978 to 558 projects. The 558 awarded projects illustrate only a portion of the awesome display of musical creativity embodied by the 9,630 requests we received from thousands of individuals and organizations creating in all 50 states and Puerto Rico. The combined requests totaled more than $69 million. These awardees were determined by 379 peer panelists from around the country working within an intensive review process. The panelists are active practitioners in a variety of disciplines, including composers, performers, choreographers, jazz artists, sound artists, and more.
At a glance, it's easy to get a sense of how impressive these projects are from their media, project descriptions, photos, and artist profiles. But it's not as easy to get a detailed breakdown of some interesting numbers and trends that this process has uncovered. Let's take a look:
General Breakdown
558 projects were awarded a total of $2,866,978
41% (229) of the projects include awardees who have never received funding from us
35% (193) of the projects prominently feature people of color as organizers or collaborators
56% (317) of the projects prominently feature female or non-binary organizers or collaborators
25% (123) of the projects were denied funding in a previous round, reapplied, and were funded
Breakdown of awards based on project type
50% (279) of the projects include the commissioning of new works
34% (192) of the projects include recording
15% (81) of the projects are jazz projects
26% (147) of the projects are for electronic music
40% (222) of the projects are interdisciplinary projects
15% (86) of the projects are theater projects
25% (142) of the projects are dance projects featuring new music
25% (141) of the projects are large ensemble projects
48% (272) of the projects are small ensemble or solo projects
Breakdown of award amounts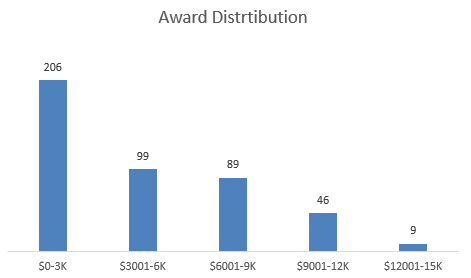 The median award was $4,000
42% (235) of the projects requested $3000 or less
$864,244 was awarded in total for the creation of new work
$849,473 was awarded in total for dance projects utilizing or commissioning new music
$182,159 was awarded in total for recording
$880,897 was awarded for other activity
Breakdown of awards based on location
49% (272) of projects are in the Northeast
10% (58) of projects are in the Mid-Atlantic (excluding New York)
7% (40) of projects are in the South
12% (67) of projects are in the Mid-West
20% (112) of project are in the West and Pacific Northwest
2% (9) of projects are for a US-based group's performance abroad
Breakdown of panelists
47 panelists reviewed the fall 2013 projects
43 panelists reviewed the spring 2014 projects
44 panelists reviewed the fall 2014 projects
49 panelists reviewed the spring 2015 projects
48 panelists reviewed the fall 2015 projects
45 panelists reviewed the spring 2016 projects
52 panelists reviewed the winter 2017 projects
51 panelists reviewed the fall 2017 projects.
There are so many amazing projects that we were able to fund, and even more worthy projects that we were not able to fund – to those applicants, and to everyone in the new music community, we say keep applying, and above all, keep creating.