New Thread Quartet: 2014-2015 Highlights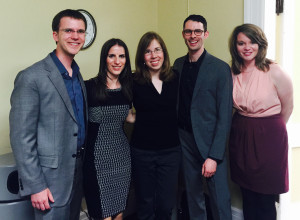 Of New Thread's 17 performances in the 2014/15 season, all were unique programs. Presenters and collaborators ranged from experimental venues (Spectrum, NYC) to schools (Peabody Conservatory) to more traditional audiences (Monadnock Music, NH) to house concerts (Home Audio, Brooklyn).
The second concert of the season, presented by Con Vivo Music in Jersey City, featured the world premiere of a 30-minute saxophone quartet work by Ben Hjertmann, part of a commission supported by New Music USA. Works for saxophone quartet of this substantial length are rare, and this particular work represented a new level of endurance from the performers, while demanding a heightened level of audience attention. In contrast, New Thread also worked with the Brooklyn-based series Music for Contemplation at the Church of the Annunciation (Brooklyn) to workshop and premiere four new works for saxophone quartet by composers specializing in reduced music with extended silence and extremely soft playing. Despite fewer notes than usual, the execution was incredibly challenging and the playing highly exposed, requiring intense concentration over long durations.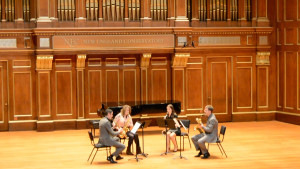 New Thread introduced adventurous works to students at Queens College (LeFrak Concert Hall), with premieres of newly-commissioned works by Queens-based composers Pat Muchmore and Luke Schwartz, as part of a project supported by the Queens Council, and to Peabody Conservatory through masterclasses and performances on their Baltimore campus.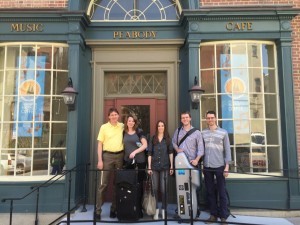 It was gratifying to present Peabody with Ben Hjertmann's commissioned work, Michael Djupstrom's "Test" – a bombastic, virtuosic anthem for saxophones, revived after only having been performed only once in over a decade, and "Ser," written for New Thread by Chilean/American composer Marcelo Lazcano, employing the softest tones on the saxophone and textures of air noise and whispered text. New Thread also performed, and held a Q&A session, for non-music majors at Bronx Community College, featuring the second performance of a new work by Kathryn Salfelder. New Thread took the opportunity at Monadnock Music's Summer Festival in July to introduce a more traditional audience to saxophone works involving unique sounds and concepts, such as Roberto Kalb's "Ryden Scenes" a work premiered by New Thread in 2013, which integrates extended techniques such as multiphonics into a traditional quartet set. At Monadnock, the quartet also performed Kathryn Salfelder's "Stolen from Above" for the 4th time during the 2014/15 season, following its February premiere at New England Conservatory. New Thread presented the second performance of Luke Schwartz's "Open link in New Tab" for electric guitar and saxophone quartet, featuring live electronics run by the guitarist, along with the 3rd performance of Pat Muchmore's "Hyperoperator 3" – an ear-splitting work for two tenor and two baritone saxophones at Spectrum's "Friday Night Loud" Series, curated by Richard Carrick and presented to a packed house.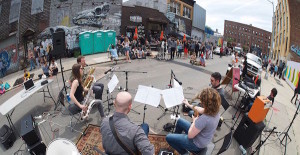 New Thread performed Daniel Wohl's minimalist quartet "Microfluctuations in Plainchant" for 4 players and sampled electronics, to a community of performance artists and Brooklyn locals at the outdoor Bushwick Open Studios Street Festival, and made its first appearance on Mara Mayer's "Home Audio," a Brooklyn House Series, performing Ben Hjertmann's "Sunstruck" for the 4th time this season. New Thread also took part in the Vox Novus 15-minutes of fame – a mass call for scores which involved a rigorous selection process and premiere of 15 (one-minute) works performed back-to-back at Jan Huus Church in January, followed up with a full program of New Thread works. The quartet also collaborated with Ruah Dance in December 2014 to present "Moving Lines" a new work by composer Erin Rogers, choreographed for 4 dancers by Andrea Skurr. New Thread also presented the 2nd performance of Rogers' "Mother Earth' for flute, saxophone quartet and electronics at Circuit Bridges, an electronic concert series, following its premiere the previous season at Weill Hall. The quartet also performed Rogers and Muchmore to a packed house at The Cell in Chelsea, for the "Composers Now" kick-off concert in late January 2015.
Throughout the 2014-15 season, New Thread continued to record works for its upcoming debut album, supported by a Copland Fund Recording Grant. Watch for it in 2016!
Video links:
Premiere of Ben Hjertmann's "Sunstruck" – Sept 2015 – supported by New Music USA

Performance of Kate Salfelder's "Stolen from Above" – May 2015 – Jordan Hall, New England Conservatory