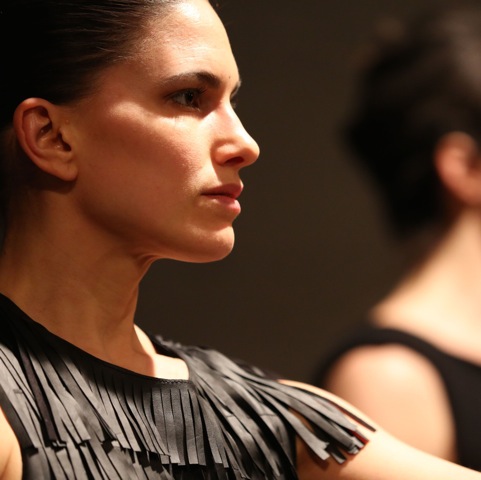 Anna Sperber is a choreographer and performer, and a native of Brooklyn, NY where she is currently based. The primacy of the moving body and detailed attention to embodied presence is at the center of her work. She believes in the poetic potency of choreography and its potential to access a visceral level of transformation in perception as it affects our emotional and psychological states.
Her work has been presented in NYC at The Kitchen, Dance Theater Workshop, Baryshnikov Arts Center, The Chocolate Factory, The Brooklyn Museum of Art, Joyce SoHo, and The Ronald Feldman Gallery, among other venues.
Anna has collaborated with composers Nate Wooley, Emily Manzo, and Mario Diaz de Leon, lighting designers Joe Levasseur and Thomas Dunn, Elliott Jenetopulos, and artist and composer Peter Kerlin. As a performer she has worked with many New York-based choreographers including luciana achugar and Juliette Mapp.
Anna has been an Artist-in-Residence at Gibney Dance (Dance in Process 2013 & 2015), Brooklyn Arts Exchange AIR (2013-14), Lower Manhattan Cultural Council at Studio 110 on Governors Island (2011), and Movement Research AIR (2006-08). In 2008-09, she was the Resident Choreographer of Sugar Salon, a program of WAX in partnership with the Barnard College Department of Dance. Her work has been supported by NYSCA Dance Program Public Commissioning Funds (2007), DCA through the Brooklyn Arts Council (2010, 2014), New Music USA – Live Music for Dance Grant (2013), and a grant from the Mertz Gilmore Foundation (2014).
Anna was a co-founder of classclassclass, designed to nurture and give opportunities to new teachers of dance while offering reduced class rates to the dance community, and was a co-curator of the 2008 Movement Research Spring Festival. She has taught as a guest artist at Dance New Amsterdam, American Dance Festival – WFSS, Movement Research, Hunter College, George Washington University, as well as through classclassclass, Movement Research.
Anna holds a BFA from SUNY Purchase. She founded and ran BRAZIL, a studio and intimate performance space in Bushwick, Brooklyn from 2004 to 2014.