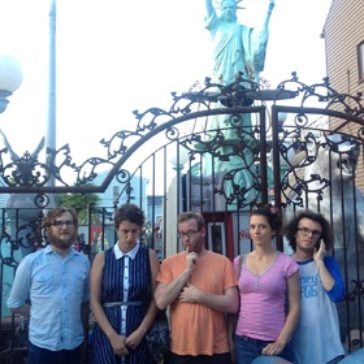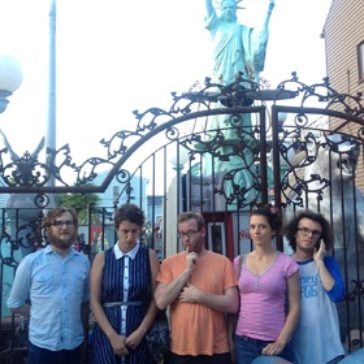 "The absurd dances with the sublime, and playfulness collides with rigor."
Ensemble Pamplemousse is a performer/composer collective devoted to presenting the works of its members and other like-minded composers from around the world. Lightheartedly described as "hippie complexism with glitch", the music takes notes from the American experimental movement, the European avant-garde, and experimental theatre.
Uncompromising in its artistic values, the ensemble works to expand the realm of historically relevant music by sharing the music of compelling American and international composers with NYC and other culturally vibrant or thirsty cities.
Devoted to equaling the playing field in contemporary music composition, Pamplemousse strives for diversity in gender/sexuality, ethnicity, and race.
Pamplemousse presents on average 8-10 concerts per season, which include 6-10 world premieres. Many tours include lectures at community colleges; workshops for children in composition and music electronics; and readings of composition students' work at universities.
Mission :
Founded in 2003 to provide a focal point for like-minded creators with a thirst for sonic exploration, Pamplemousse is a close-knit group of divergent artistic personalities, emergent from training in disparate musical fields.  Their collective love for the exquisite in all sonic realms leads the ensemble to persistently discover new vistas of sound at the frayed edges of dissective instrumental performance technique. Compositions aggregate each member's unique virtuosic talents into extraordinary magical moments.  In the flexible moments of performance, the ensemble weaves together shapes of resonance, clusters of glitch, skitters of hyper action, and masses of absurdity into impeccable structures of unified beauty.
Members :
Natacha Diels : Artistic Director, flute/composer
Andrew Greenwald : Artistic Director, percussion/composer
Jessie Marino : Artistic Director, cello/composer
David Broome : Director of Public Relations, piano/composer
Bryan Jacobs : Technical Director, electronics/composer
Weston Olencki : General Manager, trombone
A Thing is a Hole in a Thing it is Not (iii)
This is a live recording by Ensembles Pamplemousse and Adapter of Andrew Greenwald's "A Thing Is A Hole In A Thing It Is Not (iii)." This piece takes a unique perspective on classical instruments by zooming in to reveal the limitless possibilities within. By examining the minutiae of sounds and cataloguing them musically and extra-musically, the composition creates aural vistas at times stable and unsettling, much like the self-recognizable human character.
2.5 Nightmares for Jessie : Natacha Diels 2014
A live performance of Natacha Diels' 2.5 Nightmares for Jessie, for cello and two assistants. This piece was adapted from Second Nightmare, for KIKU, commissioned by Pamplemousse in 2013.
The piece is the second (and a half) in a series of Nightmares by Diels. In these works, she creates a surreal environment through the choreography of body and instrumental performance, accompanying acoustic and electronic instruments. The result is a trio that embodies robotic and living elements, describing a manifestation of the uncanny valley.
DIS UN IL IM IR : Bryan Jacobs 2013
A studio recording by Ensemble Pamplemousse of Bryan Jacobs' "DIS UN IL IM IR" for flute, piano, and electronics. This piece was commissioned by Ensemble Pamplemousse for our Spring 2013 BLOCKS project.
BLOCKS : 8 short works are performed in their original, through-composed form in the first half of the concert. During the second half, Pamplemousse passes through the compositions with metaphorical razor blade and scotch tape, taking bits and pieces freely from each piece to stitch together an uninterrupted set of unique, inimitable music.