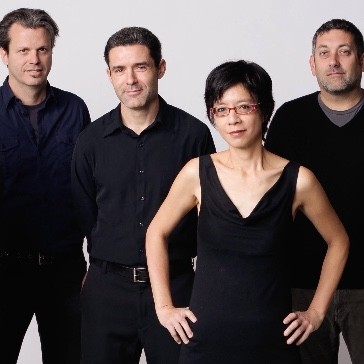 Founded in 2009 by pianist Ju-Ping Song, NakedEye began as the resident contemporary ensemble of Pennsylvania Academy of Music. Two years later, it developed into an independent organization in Lancaster, PA, composed of professional musicians from classical, rock and jazz backgrounds.
NakedEye is a working embodiment of its mission to perform and promote emerging contemporary music talent, both locally and abroad. Programs of past seasons typically juxtapose classic works and premieres. Highlights of its previous seasons include major works by Louis Andriessen, Luciano Berio, George Crumb, Frederic Rzewski and John Cage.
As a result of its commissions, over thirty performances of solo and chamber works by eight composers have been given in the U.S., Asia, and Europe. Commissions for the upcoming seasons include works by Jonathan Russell, Rusty Banks, Richard Belcastro, Moritz Eggert, Zack Browning, and Randall Woolf.
NakedEye's Chad Kinsey and Ju-Ping Song premiere Belcastro's Knock 'Em Back #5 (2016)
NakedEye Ensemble performs Martin Bresnick's BE JUST!