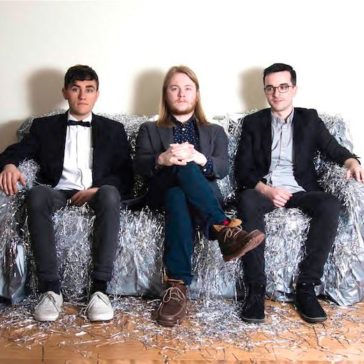 About Bearthoven
Bearthoven [ \'bâr-toh-vən\ ] is a piano trio creating a new repertoire for a familiar instrumentation by commissioning works from leading young composers. Karl Larson (piano), Pat Swoboda (bass), and Matt Evans (percussion) have combined their individual voices and diverse musical backgrounds, coming together to create a versatile trio focused on frequent and innovative commissioning of up-and-coming composers. Bearthoven is rapidly building a diverse repertoire by challenging composers to apply their own voice to an instrumentation that, while common amongst jazz and pop idioms, is currently foreign in the contemporary classical world.
Formed in 2013, Bearthoven has quickly established themselves as a forerunner in the New York City contemporary music scene. Commissioning 18 new works in their first four seasons, the trio has created its own diverse repertoire ranging from the driving, post-minimal voices of Ken Thomson, Brooks Frederickson, and Brendon Randall-Myers to the atmospheric and abstracted offerings of Fjola Evans, Adrian Knight, and Anthony Vine. Bearthoven's commitment to collaboration and innovation has garnered both critical and peer acclaim and has led to featured performances on notable stages including the MATA Festival, the Bang On a Can Marathon, and the Music/Sound Series at EMPAC, as well an upcoming release on Cantaloupe Music. Bearthoven was recently selected as 1 of 24 ensembles to be a part of the inaugural New Music USA Impact Fund cohort (along with So Percussion, JACK Quartet, and Talea Ensemble).
Mission statement
Bearthoven exists in an era where music no longer fits into discrete genre categories. Audiences have well trained ears attuned to aural cues and sonic associations, connecting pieces of music with our larger conception of culture like never before. The current generation has access to an unprecedented amount and variety of music, and these associations grow stronger and more developed with each technological development. Larson, Swoboda, and Evans believe these developments raise interesting questions about how contemporary chamber ensembles approach commissioning, programming, and marketing strategies. Through their work in Bearthoven, the musicians strive to address these questions, developing a new model for contemporary chamber groups in the 21st century.
Bearthoven's instrumentation, while a clear reference to jazz and pop idioms, is intended to serve as an access point for the current listener. When commissioning new works, the trio invites composers to explore their cultural relationship with the instrumentation, creating a dialogue between their compositional voice and their own associations with the piano, bass, and percussion sound palette. This approach is a provocative prompt for composers and provides the audience with a secure sonic foothold, even in the most abstract compositions.
individual Artist bio's
Patrick Swoboda is a NYC-based bass player dedicated to performing the works of living composers, and has worked closely with Steve Reich, Du Yun, Chris Cerrone, and Ken Thomson. Recent highlights include Shawn Jaeger's The Cold Pane for voice and small ensemble with Dawn Upshaw at the 2015 Resonant Bodies Festival in Merkin Hall, the premiere of Du Yun's The Man Who Swallowed a Snake for solo bass at the 2015 MATA Festival, a week-long engagement at St. Ann's Warehouse with David Byrne and Jherik Bischoff, and soloing in Chris Cerrone's High Windows with the String Orchestra of Brooklyn. Comfortable in a wide range of genres, Swoboda is a core member of the punk-jazz quartet Gutbucket alongside Ken Thomson, Ty Citerman and Adam Gold. Swoboda is a creative collaborator in the group, contributing compositions to the band's unique and expansive repertoire. Swoboda also plays in a number of other chamber ensembles including Exceptet, which commissions and performs new music for the unusual instrumentation of Stravinsky's l'historie du soldat, and composer/performer Du Yun's experimental pop-classical band OK Miss. He has also held the position of upright and electric bassist for NYC-based contemporary chamber orchestra Contemporaneous since 2012, and has performed with the group at the Bard Music Festival, the 2015 Bang on a Can Marathon.
Swoboda was twice a Robert Black bass fellow at the Bang on a Can Summer Music Festival and participated as a fellow in OneBeat's 2015 residency and tour on the west coast and Onebeat Istanbul, during which he collaborated with musicians from around the world in creating and performing new cross-genre works. Also an accomplished orchestral player, Swoboda has performed with the American Symphony Orchestra, American Composers Orchestra, the New York Pops Orchestra and the Teatro alla Scala Orchestra. With the ASO, Swoboda has appeared as principal double bass at Carnegie Hall, Symphony Space and the Fisher Center at Bard College.
 ///
Praised by the New York Times as "meticulous and expressive," percussionist Matt Evans dedicates himself to the performance and proliferation of contemporary art music of any kind. He performs regularly with new music groups such as Contemporaneous, Bearthoven and Ensemble Signal while creating work with the percussion project TIGUE, rock band Rokenri and others. Matt has performed around the country at acclaimed venues such as the Kennedy Center for the Performing Arts, The Kitchen and New York City's Museum of Modern Art and has been a featured performer on Q2 Music, the Contagious Sounds Series,  the MATA Festival, the Tribeca New Music Festival, the Bang on a Can Marathon and Big Ears Festival. Currently residing in Red Hook, Brooklyn, Matt produces Selective Truths, a neighborhood warehouse concert series, and can generally be found walking the streets listening to music and giving high fives.
 ///
Brooklyn based pianist Karl Larson is a specialist in the music of our time, consistently presenting adventurous programs. Karl has premiered many solo piano and chamber pieces, including works by David Rakowski, Ken Thomson, Robert Honstein, Chris Cerrone, and Pulitzer Prize winner David Lang. He is also well versed in the modern canon, having presented concerts featuring the music of Olivier Messiaen, Morton Feldman, Pierre Boulez, and György Ligeti. Recent performances of note include Morton Feldman's Triadic Memories, Olivier Messiaen's Harawi, and Scott Wollschleger's Meditations on Dust for solo piano and string orchestra.
A sought after collaborator, Larson has worked with many notable musicians from around the country, including Tristan Perich, Mantra, Eve Beglarian, the Eco Ensemble, and the Sleeping Giant Composer Collective. He has also collaborated with members of the Bang On a Can All-Stars, Ensemble Signal, Eighth Blackbird, the California E.A.R. Unit, Ensemble Dal Niente, and the Mivos Quartet. He has been featured on the Bang on a Can Marathon, the MATA Festival, WQXR's Hammered!, the Vanguard Series, the Columbus-NYC New Music Exchange, the Contagious Sounds Series, the Frequency Series, Make Music New York, the Red Note New Music Festival, the Ball State New Music Festival, the Music in the Shape of a Pear Festival, and the Bowling Green State University New Music Festival.
Karl received a DMA in Contemporary Music and an MM in Piano Performance at Bowling Green State University, where he studied with Dr. Laura Melton. Larson completed his undergraduate degree at Luther College as a pupil of Dr. John Strauss. He is on faculty at the Brooklyn Conservatory of Music.
Works
Commissions:
Balch, Katie – New Work (2017)
Citerman, Ty – Shreds (2014)
Evans, Fjola – Shoaling (2014)
Feery, Amanda – Sun Stands Still (2015)
Frederickson, Brooks – Undertoad (2013)
Gullickson, Luke – Four Trios (2014)
Hjertmann, Benjamin – A Cause for the Augurs (2014)
Knight, Adrian – The Ringing World (2015)
Petuch, Brian – Updog (2014)
Randall-Myers, Brendon – Simple Machine (2014)
Roberts, Adam – New Work (2017)
Thomson, Ken – Grizzly (2014)
Shanfield, Eric – Lightning Field (2013)
Vine, Anthony – From a forest of standing mirrors (2014)
Weiser, Alex – Roar (2014)
Wilmoth, Charlie – Bearthoven (2015)
Wolfe, Kristina – New Work (2017)
Wollschleger, Scott – New Work (20117)
Other Repertoire:
Bartsch, Nik – Modul 26 (2004)
de la Cour, Adam – Corporate Talent Factor's Next Top Idol! (2015)
Glass, Philip – Music in Similar Motion (1969)
Glass, Philip – Music in Contrary Motion (1969)
Glass, Philip – Two Pages (1969)
Johnson, Tom – Rational Melodies (1982)
Schoofs, Amanda – Intimate Addictions (2014)
Highlight Performances
November 16, 2016 – University of Pennsylvania (Philadelphia, PA)
April 7, 2016 – Music/Sound Series at EMPAC (Troy, NY)
March 3, 2016 – Permutations NYC (New York, NY)
February 29, 2016 – Music at the Forefront Series at BGSU (Bowling Green, OH)
February 24, 2016 – CNX: The Columbus // NYC New Music Exchange (Columbus, OH)
September 27, 2015 – Shapeshifter Lab (New York, NY)
August 18, 2015 – Bang On a Can Summer Festival at MASS MoCA (North Adams, MA)
April 17, 2015 – MATA Festival (New York, NY)
November 5, 2014 – CNX: The Columbus // NYC New Music Exchange (Columbus, OH)
September 22, 2014 – Minot Modern Festival (Minot, ND)
June 22, 2014 – Bang on a Can Marathon (New York, NY)
April 22, 2014 – Selective Truths Series (Brooklyn, NY)
From a Forest of Standing Mirrors – Anthony Vine
Anthony Vine's "From a Frield of Standing Mirrors" recorded and performed live at EMPAC in Troy, New York on April 17th, 2016.
I'm sorry, this media seems to be unavailable.
Shoaling – Fjola Evans
Fjola Evans's 'Shoaling' was commissioned in 2013 and premiered in 2014, and it will be included on Bearthoven's upcoming release on Cantaloupe Music. In this work, the piano, double bass, and percussion move slowly in and out of sync, undulating in waves of increasing intensity.
Live recording from the 2015 MATA Festival at the Kitchen on April 17, 2015.
Recorded by Q2 Music.
Commissioned Fall 2013 / Premiered Spring 2014
I'm sorry, this media seems to be unavailable.
Undertoad – Brooks Frederickson
The first piece composed and commissioned by Bearthoven, Brooks Frederickson's "Undertoad" was premiered December 15th, 2013, during ensemble's first public performance. Performed at the 2014 Bang on a Can Marathon at the Winter Garden at Brookfield Place in Lower Manhattan. Recorded by Bang on a Can and Little Dog Live.