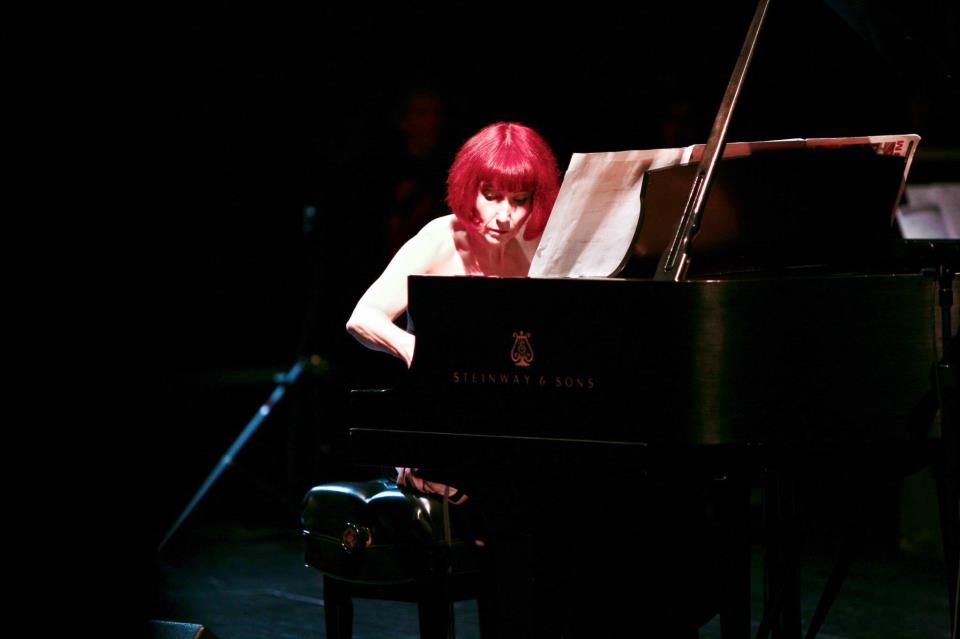 What I do is turn audiences (new and familiar) on to NEW MUSIC by composers who are active, recent, daring, and exciting. Through my enterprise, Exploding Piano, I have premiered at least 100 composers' works for piano. I perform in all kinds of venues from concert halls (including all 3 major halls at Carnegie) to theater spaces (Flea Theater, New Victory), to outdoor sites, to alt lofts and clubs (I was one of the first artists to perform at Le Poisson Rouge). I have also been in residence at a number of colleges, festivals and universities, including New College/Sarasota, Florida International U., U. of Miami, June in Buffalo, and Chautauqua. In July 2014, I presented a day of contemporary music at Mannes, as part of the International Keyboard Institute Festival.
In May, 2012, I received the John Cage Award from ASCAP for  ""the artistry and passion with which she performs, commissions, records, and champions the music of our time."
More information is at http://supove.com/bio.html and https://www.facebook.com/pages/Exploding-Piano/432149896837747?ref=hl   
In addition to humans, I've also performed with electronic sounds, with video, with the LEMUR musical robots, and with Sideband Laptop Orchestra from Princeton. This season, I also performed with toy piano and tricycle! Theatrics and staging are often an important part of my concerts. I have had major theatrical AND musical roles in Corey Dargel's REMOVABLE PARTS and Victoria Bond's THE PAGE TURNER: http://automaticheartbreak.com/2010/06/projects-removable-parts/ https://www.youtube.com/watch?v=9cTGIaR4YHI&feature=share
My two main solo CDs are: INFUSION (on E1, formerly Koch International) and THE EXPLODING PIANO (on Major Who). View them both here:  http://www.cdbaby.com/cd/KathleenSupove
Here is a recent review (2/2014) from The Boston Globe, Jeffrey Gantz critic:
http://www.bostonglobe.com/arts/music/2014/02/10/kathleen-supove-not-everyday-everyday-things/xh4U2UvcP8WkqZ8MpdjLHM/story.html
Recent and upcoming projects include: performances of all the "ghost" pieces of Morton Subotnick, in connection with his 80th Birthday; performance and recording of the complete Piano Miniatures of Mohammed Fairouz; the DIGITAL DEBUSSY project; performance of "In C" in Carnegie Hall along with composer Terry Riley and the Kronos Quartet; BATTERY, kickboxing piano concerto by composer Randall Woolf and Le Train Bleu ensemble, Ransom Wilson, conductor (February 2014); a CD of works for solo piano and electronics on the STARKLAND label (works of Dafna Naphtali, Randall Woolf, Mary Ellen Childs, and Nick Didkovsky); performances in the UK of Urban Birds by composer Arlene Sierra, a New Music Biennial commission in connection with the Commonwealth Games (Spring/Summer 2014) http://www.prsformusicfoundation.com/Partnerships/Flagship-Programmes/New-Music-Biennial/Composers-and-Commissions/Arlene-Sierra_INTERACTIONS
I have also created several concert theater presentations through the downtown theater space, The Flea Theater, including: JITTERS, AIR RIGHTS, and KATHLEEN SUPOVE' and THE ELECTRIC SHEEP, as well as DIGITAL DEBUSSY.
This is what bloggers have written about my recent DIGITAL DEBUSSY project: 
"Kathleen Supove, the go-to pianist of the New York underground,  debuted her most recent, hauntingly surreal theme program, modestly titled Digital Debussy…If cutting-edge piano music is on your agenda, don't miss this. Supove, who doesn't shy away from a challenge, put herself in the position of having to play along to a collage of keyboards mixed with found sounds of storms and god knows what else, and she was up for it, even though that meant taking cues not from melody but from stormclouds and seemingly random, possibly backward-masked sonic markers. And she nailed it!" LUCID CULTURE blog http://lucidculture.wordpress.com/2013/04/26/kathleensupove/
"The best pianist living in New York you probably never heard of is Kathy Supové. I've written about her before, and photographed some of her performances, but every time I hear her again, I reaffirm what I already knew: I know what I'm not missing." ARTHUR KAYE, blogspot http://kayester.blogspot.com/2013/05/kathy-supove-at-flea-theater-4262013.html
"At The Block, Saturday, October 19, 2013, The Steinway Piano survived the performance by Pianist Kathleen Supové, Muskegon, Michigan. Supové demonstrated that exploding a piano doesn't require blowing off the cover or busting up the keyboard. In fact, she coaxed music from the piano, while spirited, that stuck meditative chords in the audience. We were enchanted by Shattered Renditions of the Western Wind, hypnotized in the way classic Electronica casts a spell. The pianist might kickbox to blow off steam heated up by her intensity and passion. However, when nodding to queue her sound and lights technicians in The Block's balcony, her face evinced the vulnerability of a schoolgirl. Thanks to the sound sensitive laser projections, her shadow thrown in high contrast upon the thirty foot high northern wall, on the contrary, moved with all the mystique of a Jini…Supové fed that energy. She engaged her audience in a listening game, asking us to identify the Debussy quotes woven into Shattered Apparitions of the Western Wind, a task that no one in the audience was able to achieve, losing the chance to own a free copy of her Exploding Piano compact disc. She told us tales of her effort to bring Debussy into the Twenty-First Century by inspiring composers to realize his music through a new century's instruments and techniques." http://artwalkarttalk.blogspot.com/2013/10/at-block-saturday-october-19-2013.html 
These are two recent videos of myself:
1) Shot by Jody Elff, February 21, 2014, Troy Savings Bank Music Hall, Digits by Neil Rolnick, video (seen near the end) by R. Luke DuBois:
https://www.youtube.com/watch?v=Sx04RMYl1hw
2) Live performance, June 4, 2013, Turtle Bay Music School, TalkBack IV by Guy Barash:
http://www.youtube.com/watch?v=h58ztyyiK6Y&feature=em-share_video_user
3) an all-time favorite, well-shot image of a multimedia piano piece, The Same Sky by Carolyn Yarnell, concept of image inside the lid by Carolyn, video by Eric Wenger, Live Performance at Southern Theater, MN:
https://myspace.com/clubcontemporaryclassical/video/kathleen-supov-the-same-sky-by-carolyn-yarnell/49397649
4) And Battery, by Randall Woolf, for kickboxing pianist and ensemble. Here Le Train Bleu is performing, Ransom Wilson, conductor. Recorded March 25, 2014. Heidi Latsky was the choreographer:
https://vimeo.com/97840866
I have written an article for John Zorn's publication, ARCANA, Vol. 2. ("Coming Up For Air")
I curate a series MUSIC WITH A VIEW at The Flea Theater:  http://www.theflea.org/page.php?page_type=2&page_id=12
I play keyboards/do vocals/movement with Dr. Nerve. 
A director with whom I will work soon, on the new piece by Phil Kline, is the acclaimed concert theater director Emma Griffin. You can learn more about her here:  griffinemma@yahoo.com