3 Singers
An interactive technopera for 3 singers, 3 singer sewing machines, and multi-media installation.
Updates
February 17, 2015 : A Successful 2 weekends and Sold Out Shows!!
Posted by: ryan ingebritsen
SHOW MORE UPDATES▼
January 21, 2015: 3 Singers Premiers in Chicago Thursday January 22nd!
Posted by: ryan ingebritsen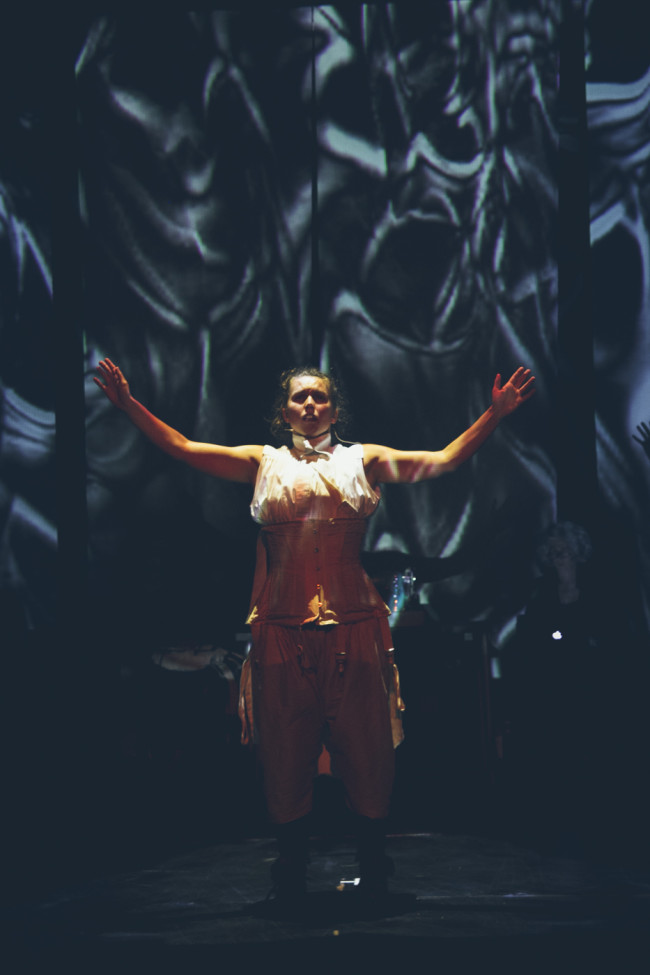 The United States premier of 3 Singers is happening TOMORROW! January 22nd 2015 at the National Museum of Health and Medicine in Chicago's east loop. The performance will run 2 weekends:
Jan 22-24th at 7:30 pm and the 25th at 3 pm
January 29-31st at 7:30 pm and February 1st at 3 pm
Tickets are $20 general admission and $15 for students.
and can be purchased at http://www.ericamott.com
more info is available at http://facebook.com/3Singers. Follow the twitter feed @3Singers and #3Singers.
Overview
Composer Ryan Ingebritsen, choreographer and theater director Erica Mott, video artist John Boesche, experimental vocal performer Fides Krucker, Architectural Designer Leigh Breslow, and dance dramaturg Ginger Farley are engaging in research and development of an immersive sound and performance installation: A contemporary techno-opera, entitled 3 Singer Opera. Ingenuity Festival, Cleveland, is acting as the primary commissioner for the project with a European premiere scheduled for November of 2014 through the support of the Tadeusz Kantor Museum (Cricoteka) in Krakow, Poland and a Chicago Premier in January of 2015.  Other partner institutions include the Logan Center for the Performing Arts at the University of Chicago, the Segal Design institute at Northwestern University, the National Museum of Health and Medicine, Chicago, and the interactive computing department at the University of Illinois Chicago.
For the past 5 years, Erica Mott and Ryan Ingebritsen have worked to create an integrated sonic and movement language utilizing technology to connect performer and audience through an immersive sensory experience. What has emerged is an inter-dependent performance practice at the intersection of object manipulation, movement and sound art. This means that musical and movement gestures are developed in tandem rather than isolation. The movement language may affect the sound score directly transforming the performer into musician and the composer into choreographer, thus opening new and more deeply integrated avenues of artistic expression.
3 Singer Opera is a deep investigation and expansion of the techniques unearthed through this interdependency model. The performers embody humanity's ongoing technical evolution by becoming singular large scale audio visual instruments sometimes working in harmony and at other times falling out of sync or growing out of control.  They simultaneously embody workers from different time periods by taking a journey that melds symbols, sights and sounds from various eras of history focusing on pre-civil war slave era workers, Central European immigrants during the industrial revolution, and modern electronics sweat shop workers, particularly those in China.  Choreography is being developed based upon the collision of culturally identifiable folk dances, the organic movement of traditional (non-mechanized) labor, and industrial labor actions in relationship to machinery.