95 RITUALS (for Anna Halprin)
Shinichi Iova-Koga dedicates the dance/music experience "95 RITUALS" to Anna Halprin, grandmother of postmodern dance.
Updates
September 25, 2015 : Rova and inkBoat go slapstick
Posted by: Shinichi Iova-Koga
On July 10, 2015, Rova and inkBoat performed the score by Larry Ochs, entitled "Hidden in Ochre." One of the MANY scores performed for 95 Rituals.
SHOW MORE UPDATES▼
July 17, 2015: Some highlights from 95 Rituals
Posted by: Shinichi Iova-Koga
95 Rituals culminated July 7-10 at the historic Hyde Street Pier in San Francisco. Audience gathered at a beach and were then led to the pier by a musical procession led by performers playing hand-crafted metal and wood chimes made by Musician/Artist Dan Gottwald.
Upon first arrival at the pier, audience came upon "Sliders" a sonic composition by Joshua Kohl (of Degenerate Art Ensemble) and Suki O'Kane, wherein performers sang overlapping individual songs that together made a rich and complex audio collage. This was accompanied by the sound of two men bailing water from and into the bay with metal pails. From the pier, audience were invited onto the Eureka, a beautiful ferry boat retired from service in th 1940's. Upon first entering the boat, audience were encouraged to explore multiple scores, both sonic and physical that took place throughout the ground floor. Joshua's "Memory Tree" was a recorded montage of performers' ruminations on Anna Halprin's life. In "Engine Room," Suki O'Kane used a string bow and simple ampification tools to play the boat itself, eliciting live, hauting tones from the inner chamber of the vessel.
On July 9 and 10 we were fortunate to have with us guest perfomers Rova Saxophone Quartet. On July 9th they played "Curling" by John Zorn. On July 10th they performed "Hidden in Ochre" by Larry Ochs. Both nights dancers improvised while the boat resounded with their music.
Inspired in part by traditional Sea Shanties, the penultimate piece of 95 Rituals was a song in two harmonic parts that the audience learned and sang with us. Composed by Crow Nishimura of Degenerate Art Ensemble, the rousing tune culminated in a communal celebratory swirl of stomping, clapping and waltzing.
From here audience and performers traveled together to gaze at the horizon and watch any final cameos by sea lions, pelicans or gulls.
June 24, 2015: 95 Rituals coming up!
Posted by: Shinichi Iova-Koga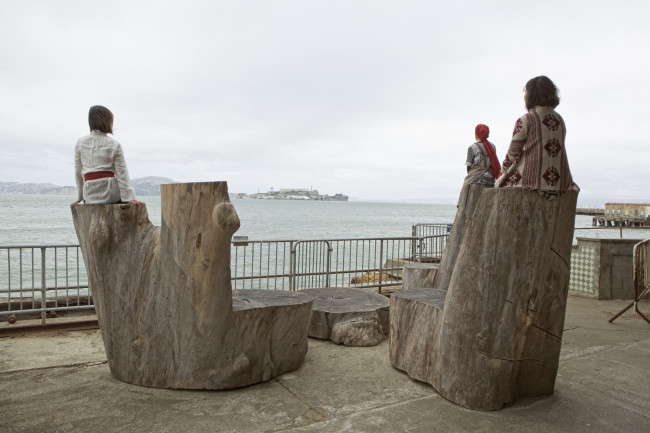 95 RITUALS culminates this July
Tuesday-Saturday, July 7-11, 5-8pm**
Hyde Street Pier and surrounding area, SF
Free
"Ritual is another word that needs a new definition… Ritual, as I use the term, refers to an artistic process by which people gather and unify themselves in order to confront the challenges of their existence." ~ Anna Halprin
Performed by inkboat: Yuko Kaseki, Sten Rudstrøm, Heekyung Cho, Joshua Kohl, Crow Nishimura, Dohee Lee, Dana Iova-Koga, Suki O'Kane, Shinichi Iova-Koga and Sherwood Chen; Guest performers: Rova Saxophone Quartet, Oguri and Roxanne Steinberg; Direction: Shinichi Iova-Koga
*No two showings the same; audience can come & go, or stay for the entire event.
**The Hyde Street Pier normally closes at 5pm and will stay open late for the free 95 Rituals performances
The Hyde Street Pier is part of the San Francisco Maritime Historical Park located off of Jefferson St @ Hyde St.
Find all of the details at 95rituals.org
Overview
95 RITUALS is inspired by Anna Halprin, a visionary artist whose work radically expanded the purpose, process, and content of dancemaking. 95 Rituals will premiere when Ms. Halprin turns 95 years old and will wrestle with both structural and conceptual issues germane to referencing, departing from, and paying homage to an artist whose body of work spans seven decades, during which there have been monumental cultural and societal shifts. The piece will premiere in San Francisco in 8-10 admission-free outdoor performances.
Lead artist Shinichi Iova-Koga writes: "The process of working with Anna on three projects (Associate Director for "Spirit of Place," "Parades and Changes" and performer/collaborator in the duet "Song of Songs.") has significantly expanded my sense of environment and human-kind's relation to the larger world. A project about/influenced/honoring her is an opportunity to not only explore her process, but her motivations and to examine the forces that shaped her. I believe that working with the fundamental principles that Anna has articulated will yield something unlike what Anna has or would make. This piece will be for Anna." Shinichi will structure the piece around 95 different scores for rituals (performances with a purpose) that he and inkBoat create along with contributions from a wide range of visual and performing artists, including one or more from Anna herself. Each artist will be given a template based on Anna's ground-breaking RSVP approach to the creative process—a system for collaborationthat she developed with her husband—and will be free to interpret its process of Resources, Score, Valuaction and Performance in his/her own way, within the parameters defined by Shinichi.
95 Rituals will use a central core of eight performers to enact a selection of the scores (chosen by Shinichi), all of whom are inkBoat members and many of whom have a previous artistic relationship with Anna. The piece will include solos, duos, group pieces and the full ensemble, as well as a cameo appearance by Anna. Some scores will be dance centric and others will be music-centric.
Kronos Quartet will peform with inkBoat at the YBCA Forum on June 21. Joshua Kohl will be overseeing the musical thread between Kronos, ROVA Saxophone Quartet, Kugelplex, Carla Kihlstedt, Free Salamander Exhibit and Suki O'Kane.
Though he has not yet worked in the past with Kronos, Shinichi has collaborated in depth with former Kronos cellist Joan Jeanrenaud on the project "ODD." Joshua Kohl has collaborated with Kronos on the project "Predator Songstress." All other groups have a long history of collaboration with Shinichi.