ARA: Waterways Time Weaves
ARA is how I can engage and support people to empower themselves through their stories. Stories are the medicine.
Updates
December 22, 2016 : Dohee Lee Super Cut!
Posted by: Dohee Lee Puri Arts
We're starting the push to book ARA and other projects for European tour in Spring, 2018. Here's a brand new Dohee Lee video overview of different aspects of her work – new & traditional performance, community work, public ritual – including clips of ARA from our most recent Counterpulse performance.
ARA Ritual II: Timeweaves is set for Eastside Cultural Center, Oakland
January 20 & 21, 2017.

SHOW MORE UPDATES▼
December 6, 2016: ARA Ritual I: General and B.A.B.Y.
Posted by: Dohee Lee Puri Arts
A new clip from our 9/9/16 performance of ARA @ Counterpulse, SF.
The audience calls to the goddess and she speaks back. Then, the show ends with a hopeful message from Bay Area Bhutanese Youth.
ARA Ritual I: General & B.A.B.Y.
August 2, 2016: ARA Ritual I: Waterways
Posted by: Dohee Lee Puri Arts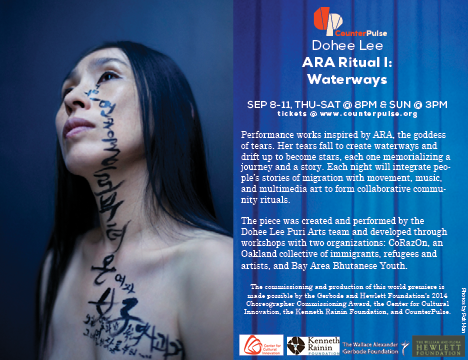 Overview
Dohee Lee will research, develop and perform ARA: Waterways Time Weaves, a ritual theatrical performance featuring Korean music and dance, contemporary dance, electronic music, and community participation.
ARA is the goddess of tears. Her name has various meanings including "ocean" and "eye." Her tears flow down and become rivers and oceans. They drift up and become stars shining in the Milky Way. Each one memorializes a story evoking sadness, love, desperation, and hope.
For ARA, we are working with multi-generational immigrant women from 11 Asian backgrounds, organized through our collaborating organizations, CoRazOn and Bay Area Bhutanese Youth, in Oakland.
ARA will develop through a two-year period of workshops with CHAA participants, from 2015-2017. ARA workshops will combine music, storytelling, spoken word and movement exploration with drawing and writing. Workshop inquiry will explore how home connects to the body (physical, emotional, imaginary) and the world (land, ocean, universe). We will explore how this creates belief systems. To reveal these connections, we follow waterways through our ancestral lineage to research what has happened to the people and the land there. How did we arrive in America? What is the history of the land we inhabit? Who lived here before? What stories, myths, and rituals have been created? How do we carry ancestral trauma and current traumas of immigration, migration and refugee?