Each flows into the other
R. Andrew Lee premieres and records a new work by Bryan Christian at the intersection of spectralism and diatonic modality
Updates
July 26, 2017 : Score completed!
Posted by: Bryan Christian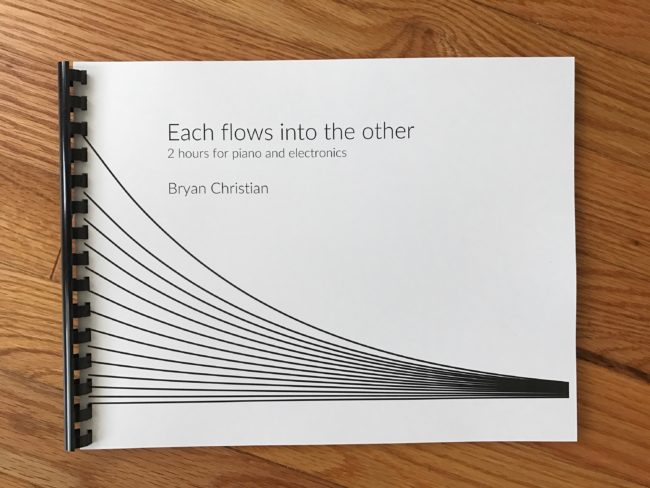 Overview
Each flows into the other, for piano and electronics by composer Bryan Christian, draws its title from Geoffrey of Vinsauf's 13th-century treatise Poetria nova: "Each flows into the other; and from this double river, expression will overflow."

This line encapsulates Christian's long standing fascination in fusing the disparate sound worlds of spectralism and diatonic modality. Commissioned by pianist R. Andrew Lee, who is internationally recognized as a leading performer of contemporary music and works of extended duration, Each flows into the other will explore the spectral-diatonic duality over the course of two hours. New to this composition, Each flows into the other uses a consistent spectral process across the work that unfolds at a glacially slow pace. This pacing allows the listener to aurally zoom in and explore the most minute changes and interrelationships between these unique sound worlds. The pacing also blurs the line between concert work and installation.
Each flows into the other marks the first collaboration between Lee and Christian. Lee will premiere Each flows into the other in Fall 2017 at the St. John Francis Regis Chapel in Denver, Colorado. Lee and Christian are planning additional performances across the US later in 2017 and 2018. Lee and Christian will also record the two-hour work for release as a double CD on the Irritable Hedgehog Music record label in 2017.
SPECTRALISM AND DIATONICISM?
Each flows into the other takes the harmonic series and exponentially stretches the overtones. Over the course of two hours, the stretching is relaxed until it first reaches the traditionally referenced harmonic series and is then further compressed. The ultimate aural effect is a collection of concurrently sounding glissandos (as depicted in the image above), which are sliding so slowly that pitch changes are nearly imperceptible. These glissandos are synthesized in the electronics part and fuse in various configurations to create different timbral palettes throughout the two hours. As the glissandos cross into various diatonic keys, these pitches are reincorporated in the piano part and faded out of the electronics. Thus, the diatonic collections played by the piano are actually part of the spectral process occurring in the electronics. Each sound world flows into the other.