Edmar Castaneda Performance and "Meet the Artist" Event
The 2015 DC Jazz Festival will feature harpist, bandleader and composer Edmar Castaneda in performance and in a free "Meet the Artist"event.
Updates
July 22, 2015 : Watch Edmar Castaneda's Conversation about His Life as a Musician
Posted by: DC Jazz Festival
Edmar's story about his musical journey and his introduction to jazz:, here on youtube:
SHOW MORE UPDATES▼
July 22, 2015: Review of Castenada Performance on June 11, 2015
Posted by: DC Jazz Festival
July 22, 2015: Meet the Artist Promotion
Posted by: DC Jazz Festival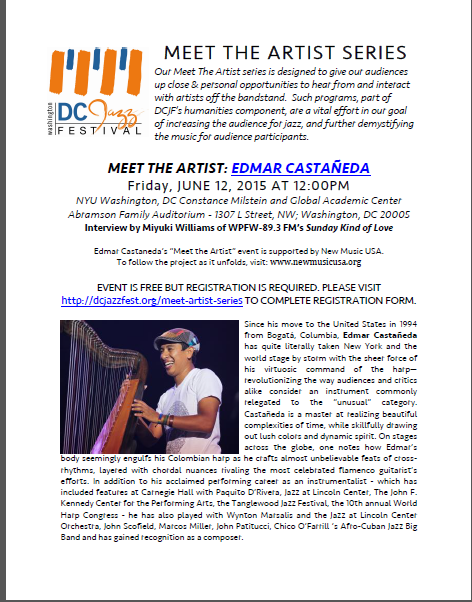 DC Jazz Festival promoted the evening using facebook and twitter. See attached flyer.
Overview
The DC Jazz Festival will present the extraordinary harpist and composer Edmar Castaneda as part of its 2015 DC Jazz Festival taking place in Washington, DC this June. Castaneda will perform with his trio – trombonist Marshall Gilkes and drummer/percussionist Dave Silliman – at a ticketed concert at the 500-seat, state-of-the-art Hamilton Live music venue in downtown Washington, D.C. and participate with his trio in a "Meet the Artist" event offered free to the public at Washington's Sidwell Friends School.
A native of Colombia, Castaneda moved to the U.S. in 1994 and was quickly recognized for his unique style, which combines Latin jazz with traditional Colombian music. Castaneda's style is fascinatingly percussive. He plucks dynamic bass lines almost invisibly with his left hand while playing melodies with his right hand. Castaneda has carved out a niche for himself on the international jazz scene, and has performed with Paquito D'Rivera, Wynton Marsalis, John Scofield, Giovanni Hidalgo, Marcus Miller, Janis Siegel, Gonzalo Rubalcaba, the Jazz at Lincoln Center Orchestra, the Chico O'Farrill Afro-Cuban Jazz Big Band, and the United Nation Orchestra, among many others. An accomplished composer, Castaneda was recently commissioned by France's Camac Harps to co-write a new work with award-winning Argentine composer and arranger Carlos Franzetti. Their "Memorias del Sur" had its world premiere with the Israel Camerata Orchestra, featuring Castaneda as soloist.
At the concert and "Meet the Artist" event, Castaneda will perform compositions from his 2012 release, Double Portion, and from his earlier albums. As part of the 90-minute "Meet the Artist" program, Castaneda will perform, demonstrate his innovative harp techniques, and talk with the audience about his career and influences. A moderator will pose questions to Castaneda and invite questions from the audience. This intimate musical conversation will enhance the attendees' quality of life, foster intellectual inquiry about music performance and composition, and promote an appreciation for jazz and its key element of improvisation. The program is planned to be available via podcast.