HARBORED
A Site-Specific Performance about Immigration
Updates
August 4, 2017 : Walt Whitman looks pretty good at the Winter Garden Atrium
Posted by: Heather Christian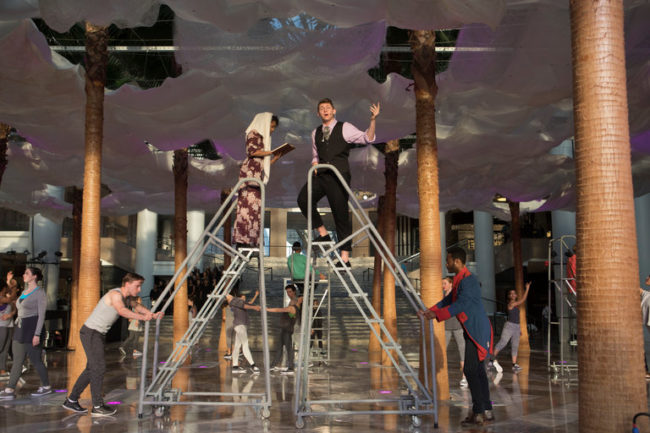 "Harbored" premiered at the Winter Garden Atrium at Brookfield Place a month ago, and I got to hear my score in the incredible voices of two choirs, six actors, and a dancing ensemble of thirty. Two choirs, Downtown Voices of Trinity church on Wall street and Wednesday Sings choir at the Mama Foundation in Harlem were brought on board and together to create a diverse ensemble of varying backgrounds and musical styles to interpret the Harbored score, which, surprisingly– (to me! and to director Jimmy Maize) ended up being an adaptation of Walt Whitman's "On Brooklyn Ferry Crossing". If you've never read this poem, please do so. It says so much about space and time and the universality of our singular American relationship with uprooting and re-rooting. It truly paints New York City as a safe harbor for those far flung, both emotionally and locationally. Jimmy had used the poem as a touchstone for how the play should "feel", and I became so moved by it that I threw it into the mouth of the score.
The finale of the piece featured a fugue I wrote with overlapping melodic strains of names of immigrants on the Ellis Island Registry in addition to names of immigrant relatives brought in by the cast and choir. I felt this showed Whitman after telling Whitman for so long.
We had a beautiful four performance brief run at Brookfield. Despite technical challenges, we played to close to three hundred delighted people a night, half of whom intentionally brought themselves to the room, half of whom stumbled on the show by accident. This is part of the real beauty of site specific work, and something En Gaarde Arts does so very well.
"Harbored"'s premiere has happened, but we are far from done! I have plans to record these brilliant choirs early next year and release the score. I am making arrangements now to re-rehearse these choirs and find an appropriate space to house so many brilliant individuals, and cannot wait to share our progress.
Overview
En Garde Arts, an award-winning not for profit theatre is producing HARBORED, a collaboration with writer/director Jimmy Maize, choreographer Wendy Seyb and Reverend Billy and the Stop Shopping Choir. HARBORED weaves together tales from the last 125 years of immigration and examines how that history intersects with immigration stories today.   Integrating oral history, archived material and found texts, the piece is an epic collage of performance, original music and dance. Presented by Arts Brookfield and the River to River Festival at Brookfield Place, HARBORED will premiere from June 22nd thru 25th, free of charge to an audience consisting of dedicated theatre-goers, the downtown business community and residents and a constituency built with partnerships of social service organizations serving immigrant populations in and around New York City.  With the support of the Mayors Office of Film, Television and Theatre,, En Garde Arts will also be presenting a concert version of the show in Queens at a location to be determined.  En Garde has a rich history of assembling teams of visionary artists to create work that brings together people not normally in conversation to build community around the salient social issues of our time .  Its documentary theatre works BASETRACK Live and WILDERNESS were both NY Times Critics Picks. BASETRACK Live has toured to 40 cities around the country,   In the current political climate where divisiveness is at critical proportions, a work of theatre that can humanize the issues around immigration has never been more important or timely.  HARBORED will feature Reverend Billy and the Stop Shopping Choir, consisting of performers from a diverse array of economic, ethnic, religious and cultural backgrounds.  The choir will serve as a musical backbone for a 30-50 voice choral score to be sung, largely a cappella, in the vast atrium at Brookfield Place. Writing for an everyman choir of varying timbres, abilities and ages is a rare opportunity to give the narrative more honesty, heart and grit. Incorporating interweaving melodic fugues of narrative from characters in the play will accentuate the complex and compelling realities of American immigrants. Before the show, the creative team will interview audience members about their personal experiences and backgrounds, and with the help of Andrew Schneider, sound designer, these stories will be fed to the performers via an in-ear technology that will be musicalized on the spot. These contemporary stories tie the past to the present, prompting audiences to understand that our nation was built from the talents, skills abilities and hard work of immigrants.  Championing an immersive process of understanding and discovery, HARBORED can serve to redefine the ways in which theatre is priced and presented for maximum artistic and social impact.