Harmonia: 10th Anniversary Commission by Steven Sametz
Harmonia celebrates its 10th Anniversary with a commissioned work by American composer Steven Sametz, premiered in Buffalo, NY
Updates
July 27, 2017 : Photos from the 10th Anniversary Concert
Posted by: Harmonia Chamber Singers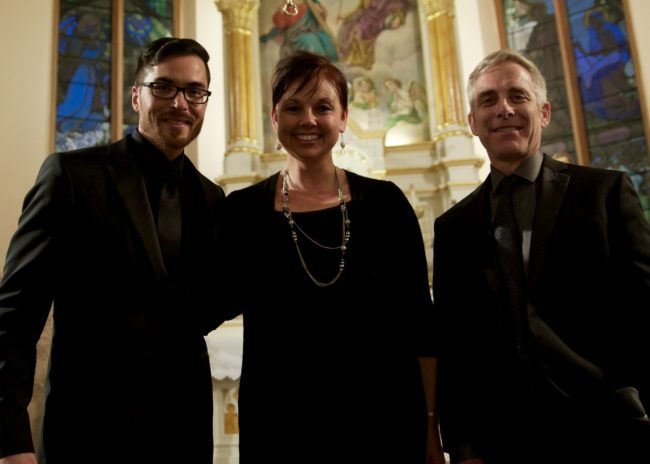 Robert Pacillo, Artistic Director
Monica Stankewicz, Assistant Conductor
Steven Sametz, Composer and Guest Conductor
Overview
Harmonia Chamber Singers, a professional vocal ensemble from Buffalo, NY, celebrated its 10th anniversary with a commissioned work by composer Steven Sametz. Harmonia has established itself as a proponent of new choral music and plans to commission works annually. Funding from New Music USA would benefit that mission.
Echo, by Steven Sametz, text by Christina Rossetti, was commissioned by Harmonia to be premiered at its 10th anniversary concert, May 21, 2016, at St. Joseph Cathedral, Buffalo. In setting Echo, Sametz concentrates both on the dialogue (the poet's much hoped-for wish reflected in the antiphonal writing between high and low voices) and the sense of overlapping sound (the "echo" of the title). The second section, with a turn to major mode, hints at that ecstatic reunion which the poet experiences only in dream ("O dream, how sweet, too sweet, too bittersweet..."). A shift in tonality signals a realm beyond, "Where thirsting longing eyes/ Watch the slow door/ That opening, letting in, lets out no more." These compositional elements coalesce in an extended coda: the poet is left with a gently receding echo, and the wistfulness of her longing.
On May 20, 2016, Dr. Sametz lead a choral workshop with Harmonia, the Niagara Falls High School Concert Choir, and the Sweet Home High School Concert Choir. The workshop/concert featured Sametz's work, I Have Had Singing.
In summer of 2017, Harmonia plans to enter the studio to record highlights of the 10th anniversary season and beyond, focusing on new music and premieres over the past several seasons. Part of our mission is to serve as a vehicle for advancing new choral music in the Western New York area and the world, and this recording project will have an immeasurable impact on that outreach.
Steven Sametz (b. 1954) has been hailed as "one of the most respected choral composers in America." Though best known for his work in choral and choral-orchestral repertoire, Sametz's oeuvre includes solo songs, opera, ballets and works for orchestra and chamber ensembles. He is Director of Choral Activities at Lehigh University.