ILLEGAL SUNSHINE
A stop-motion dance film/music video, citywide viewing stations, a premiere screening with live music and dance, and then more dance films!
Updates
August 29, 2017 : The Creation Process & The Video Pop-up Installations
Posted by: Marion Walker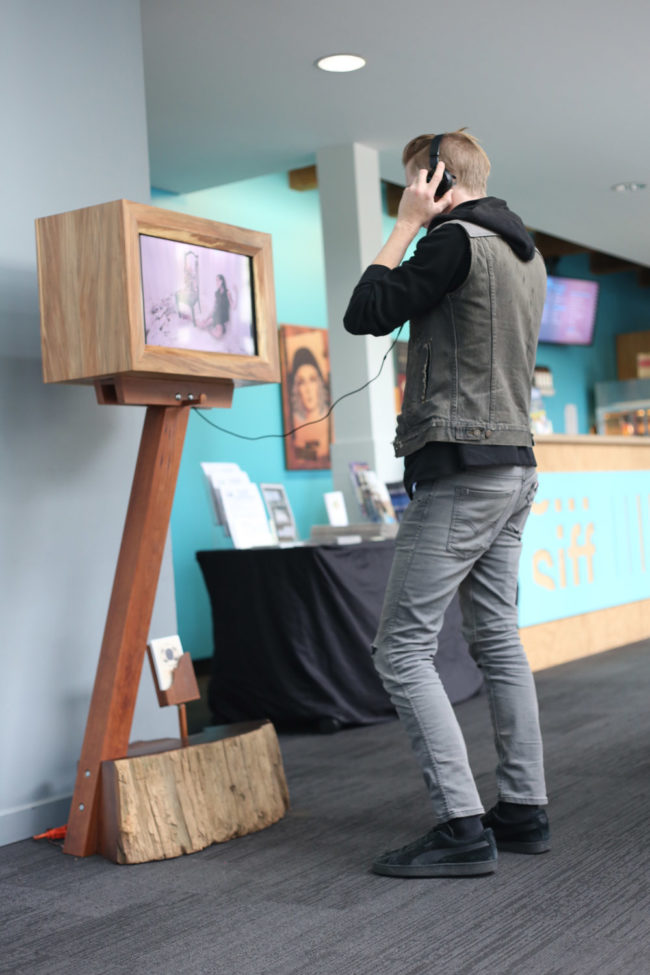 Dearest,
Last summer, while Artists-in-Residence at Center on Contemporary Art, we shot 40 consecutive nights, producing more than 28,000 still photos, which we then sorted through and edited together to make our stop-motion dance film/music video, "Patience, Atlas."
For the first stage of the "Patience, Atlas" premiere​, we​ collaborated with Magnolia Woodworks​ to build a custom viewing station that displays the video in a sculpture of exotic wood. The viewing station was hosted as a pop-up installation at a wide range of venues throughout Seattle during April and May 2017 including The Vera Project, SIFF Film Center, Northwest Film Forum, and Georgetown Records/Fantagraphics Books.
We are always endeavoring towards new audiences and getting a chance to display our video in locations where we would not normally exist brings us up close and personal with a brand new crowd. This style of presenting is one of our favorites because we get to reel in passersby and viewers who aren't necessarily seeking out art experiences. There is nothing more satisfying than someone who has never seen a dance film before becoming an instant fan and calling their friends over to watch too!
Love,
MW
SHOW MORE UPDATES▼
June 25, 2017: "Patience, Atlas" – a preview from ILLEGAL SUNSHINE
Posted by: Marion Walker
Dearest,
We feel so honored to have received this project grant from New Music USA!
We have been hard at work on ILLEGAL SUNSHINE for the past year and have so many stories to tell. For now, we will start you out with this preview of "Patience, Atlas" one of the dance films/tracks from ILLEGAL SUNSHINE.
Love,
MW
Overview
ILLEGAL SUNSHINE is a multifaceted project involving dance film/music videos and live dance/music performance. The first phase of the project was to shoot a stop-motion dance film. This was shot in July and August 2016 while Marion Walker were Artists-in-Residence at Center on Contemporary Art. During winter 2016/17, we will edit the video and record the music for it. Phase two will be the premiere of the video. We will start by having viewing stations hosted at music establishments throughout the city of Seattle from April 1 to mid-May. These stations will be free and targeted at a broad range of audiences. For example, one of the locations is an all-ages venue, The Vera Project, and another is a record store, Georgetown Records. This month and a half of viewing stations will lead up to a debut event at The JewelBox Theater on May 18, 2017. The evening will feature the video screening along with a live set of music from Marion Walker. Throughout our set we will be joined on stage by dancers performing contemporary dance vignettes. The JewelBox Theater is a restored 1930s cabaret style theater with a rich history of hosting Rock'n'Roll concerts. We are excited about combining the mediums of dance cinema and music video as well as the idea of presenting dance within the context of a music show and music venue. As both a band and multidisciplinary company, this melding of worlds is a main focus of Marion Walker's work. The third phase of the project is to film the dance solos (from the live event) and edit them together into a long-form dance film/music video to be released online along with Marion Walker's new album in September 2017.