Neurosonics (cont.)
Andrew McManus and the Spektral Quartet use neuroscientific research to create a response to epilepsy
Updates
May 2, 2017 : Premiere this Friday!
Posted by: Andrew McManus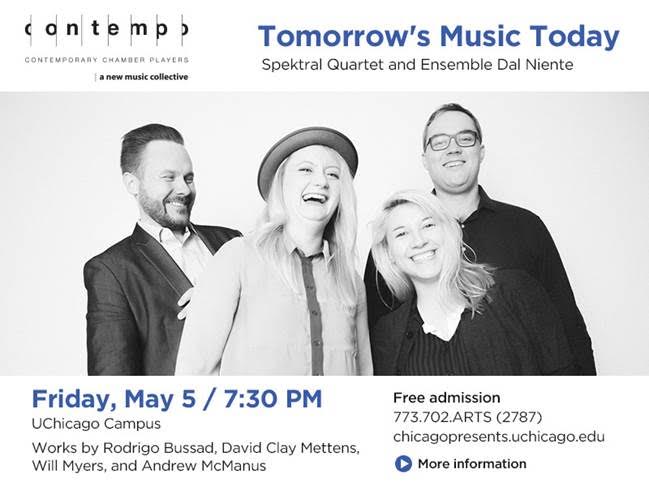 It's finally happening! The Spektral Quartet will premiere pathways, bursting this Friday (5/5) at the Reva and David Logan Center for the Arts at the University of Chicago, and again at Constellation Chicago on Friday 5/12.
The Logan Center performance will feature 6-channel surround playback, and I'm really looking forward to presenting the electronics in such an immersive way. (Here's a stereo reduction of one excerpt – it'll be only a fraction of the experience!)
Friday 5/5
7:30 pm
Reva and David Logan Center for the Arts
915 E 60th St
Chicago IL 60637
FREE
Friday 5/12
8:30 pm
Constellation Chicago
3111 N Western Ave
Chicago IL 60618
$15 ($10 students)

SHOW MORE UPDATES▼
Overview
During my time as a doctoral student at the University of Chicago, I participated in the Reva and David Logan Center's Arts|Science Collaboration Initiative, which allowed me to work with neuroscientist Tahra Eissa on creating electronic sounds derived from the electrical behavior of rat neurons. The goal of this research is to better understand epilepsy in humans. (More information is available here.)
I recently began a long-term, multi-work creative project that has grown out of this collaboration. Earlier this year I completed the first work, a multi-channel electronic playback piece Neurosonics I. The piece uses data from these neuron pulses to create and transform certain sounds, and also features drumming patterns derived from the rhythms of these electronic pulses.
For my next step in the project, I'm looking to expand the ideas of Neurosonics I into two new works for string quartet and electronics, both in collaboration with the Chicago-based Spektral Quartet. The first work, set for premiere in May 2017 at the University of Chicago, will be a short preview (ca. 8') for a larger-scale work (ca. 20') for Spektral to be premiered at a later date.
My motivation for this work is personal, as I was diagnosed with epilepsy in 2004, and providing artistic responses to the experience of this condition is very important to me. Having the condition has been a formative experience, and this is why my ambitions for this work - and the next in the series - extend beyond simple concert performances. Performance by the Spektral Quartet is tentatively scheduled for Spring 2017, but I am also exploring a collaboration with both the Epilepsy Foundation of Greater Chicago and the University of Chicago Medical Center on a patient outreach program. I intend to use my artistic response to the condition to encourage others - both patients and their families - to not only open a dialogue about their personal experiences, but to potentially develop their own responses.