PATIENT(CE)
The fabric of jazz, the threads of inheritance, and the struggle of freedom.
Updates
October 28, 2015 : New Music USA Thank You.
Posted by: Stefanie Batten Bland/Company SBB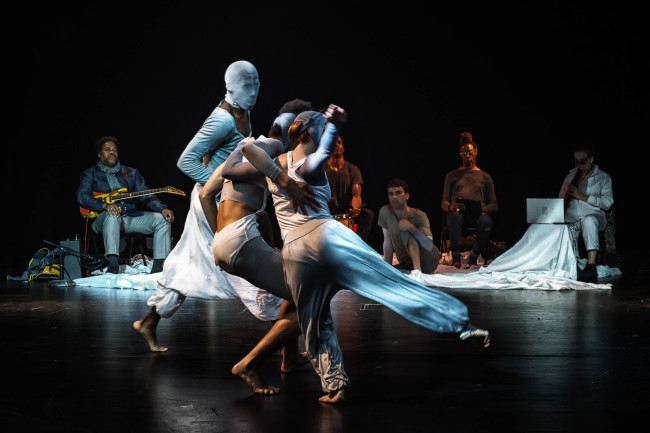 Saturday, November 25th, marked the final performance of our NY fall season at The Harlem Stage Gatehouse, where we presented the world premiere of Patient(ce). Embarking on a project of this scope (8 dancers, 5 musicians, multiple interactive installation pieces) requires extraordinary effort and tremendous patronage. From Company SBB to all the good people at New Music USA, thank you for your support!
*The image above was captured by Mark Millman during CSBB's dress rehearsal on Wednesday, October 21st.
SHOW MORE UPDATES▼
Overview
Led by founder and choreographer, Stefanie Batten Bland/Company SBB will endeavor to explore our instinct to create in face of oppressive structural powers of all races and still find grace in life with the development and presentation of a new work, Patient(ce). Ms. Bland will pair new choreography and original music by Burnt Sugar The Arkestra Chamber with the cinematic and musical legacy of her father, Ed Bland. This triad of film, music and dance will honestly portray our shared struggles and growth as a multicultural society in America.
Thanks to filmmaker/composer Ed Bland's experience of living through the World War 2 and Civil Rights eras, his daughter will explore her inheritance of jazz and freedom. Through his iconic 1958 film "The Cry of Jazz,"he explains how the structure of jazz is actually a musical manifestation of the living condition of the black person in America, and how its chaotic musical structure is one of the eternal present without the option of advancement, similar to the state of the American Black. This was his past, which she has inherited into the present; the piece will have an eye towards the future with an infusion of the film's excerpts and music.
Contemporary and jazz music from Mr. Bland's original film score will be interwoven with a combination of original and previously composed music from the musical collective, Burnt Sugar The Arkestra Chamber. Led by Director and monster bassist Greg Tate with a rotating group of 20 musicians and singers, Burnt Sugar is constantly redefining jazz genres of today, spanning the experimental soul-jazz-hip hop spectrum. As great admirers of Ed Bland's pop music and film work and with an extensive history of improvisation and site specific performances, they will be commissioned to create an intricate and unique musical soundscape for this new work. Burnt Sugar plans to perform live at the premiere and possibly at other performances. Music recordings will be made for future performances as needed.
The choreographed component will be set on seven dancers representing the diverse cultural make-up of our world today, many of whom have worked with Ms. Bland since starting her company in Paris in 2008. Lighting and live set designer, Alaric Hahn, has worked with CSBB since 2011 and will bring to life an immersive setting for the dancers to interact with scenes from Mr. Bland's "The Cry of Jazz". The set will be an enormous sheet of white fabric from which the dancers are all threads, draping in front of the film scenes to bring unity to the movement, music and cinematography.
Two public performances for the premiere of Patient(ce) are planned at Harlem Stage in October 2015, dates t.b.d. Related workshop performances and open rehearsals throughout the 18-month creative process will be open to the public. A national and international tour of this work is expected in 2015/16 to such venues as Spelman College of Atlanta, and NYC Danspace at St. Marks Church who have expressed interest in the work. Additional venues will be added throughout 2015.