Sonorous Earth
Augusta Read Thomas, Third Coast Percussion and the Chicago Philharmonic collaborate on a new work for percussion quartet and orchestra
Updates
May 17, 2017 : Eugene Symphony performance
Posted by: Augusta Read Thomas
APRIL 19, 2018
Premiere of co-commissioned SONOROUS EARTH for percussion quartet and orchestra by the Eugene Symphony conducted by Francesco Lecce-Chong and Grammy-winning Third Coast Percussion on a subscription concert at Eugene's Hult Center for the Performing Arts.
SHOW MORE UPDATES▼
May 17, 2017: SONOROUS EARTH is conceived as a cultural statement celebrating interdependence and commonality across all cultures.
Posted by: Augusta Read Thomas
SONOROUS EARTH can be heard as a United Nations of resonances.
January 12, 2017: WORLD PREMIERE NOVEMBER 12, 2017
Posted by: Augusta Read Thomas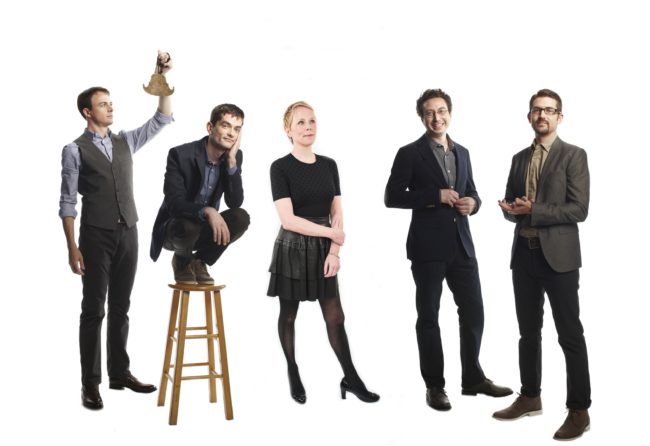 NOVEMBER 12, 2017
World Premiere of a NEW WORK for percussion quartet and orchestra will be presented by The Chicago Philharmonic Society and Third Coast Percussion conducted by Scott Speck in Harris Theater Concert Hall, downtown Chicago.
December 2, 2016: Breaking Ground
Posted by: The Chicago Philharmonic Society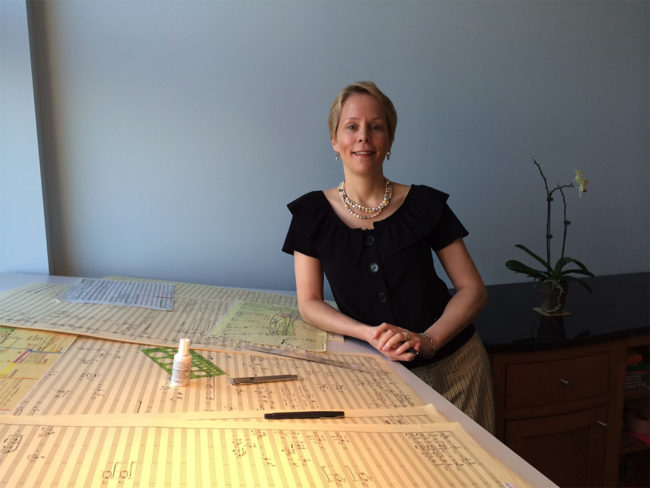 The Chicago Philharmonic is proud to report that Augusta Read Thomas has broken ground on composing the new percussion quartet concerto, commissioned by the Chicago Philharmonic, featuring Chicago-based Third Coast Percussion as soloists. "Elegantly blending the bells — with their manifold tunings, colors, dynamics — with the orchestra is inspiring, humbling, and engaging," she says.
Third Coast Percussion and Augusta have been working carefully on the cadenza sections of the concerto, which are exceptionally virtuosic and intricate. Third Coast Percussion has read, at slow tempo, a draft of the cadenza sections materials. Augusta has subsequently revised them, making the music even more virtuosic!
We are all working hard to promote future performances of the new concerto. Since it is a huge job to compose and to learn, we are hoping to perform it more than once.
We start workshops of the piece in June 2017 for a world premiere in November 2017.
Overview
In 2012, globally renowned and sought-after composer Augusta Read Thomas was commissioned to write a work for Third Coast Percussion, a ground-breaking young group that, since its formation eight years ago, has become nationally acclaimed for concerts and recordings that meld the energy of rock music with the precision and nuance of classical chamber works.
Resounding Earth, the product of that intensive collaboration premiered on September 30, 2012 at University of Notre Dame's DeBartolo Performing Arts Center. This beautiful and compelling music caught the attention of the leadership of the Chicago Philharmonic, an orchestra widely known and respected for its excellence and versatility performing works ranging from Santana to Stravinsky. The Chicago Philharmonic's interest in developing programming and championing new works to expand the influence, relevance and impact of orchestral music, sparked the idea of expanding Resounding Earth to create a work for a percussion ensemble and orchestra.
We are inspired to develop a new work that will build upon the sensibility of Resounding Earth, and serve as a unique showcase for these three shining examples of Chicago musical talent, each bringing different strengths and focus to the table.
The work will be scored for a percussion quartet playing bells and metals from around the world, and a 60-piece orchestra. It will premiere in Fall 2017 at one of the Chicago Philharmonic's venues for their symphonic subscription concerts -- Pick-Staiger Hall in Evanston (just outside of Chicago) or Harris Theater in Chicago. Both venues are easily accessible by car and public transportation while offering convenient parking and affordable ticket prices. Through Chicago Philharmonic's Families to the Phil program, students from area high schools and middle schools serving low-income populations will be invited to attend the concert for free with their families. These schools, as well as senior citizen and special needs groups, will be invited to witness the creative rehearsal process, where they would hear the music and learn about the artists and the composition process in a comfortable, intimate environment.
The public performance of this work will extend well beyond its initial presentation. With its modestly-sized orchestra and broad appeal, enhanced by the intriguing use of percussion, the work will be easy to tour and share with a variety of audiences, and to be considered for performance by other organizations. The project also includes plans to record the work.
The creation and premiere performance of the work are also supported by a grant from the National Endowment for the Arts.