Trance-figured Night with Dal Niente and Murat Çolak
A collaboration between Ensemble Dal Niente and the Boston-based Turkish composer Murat Çolak on a new piece for ensemble and electronics
Updates
March 30, 2017 : Video Recording and Interview with Emma Hospelhorn
Posted by: Murat Çolak
Hello again,
I'm excited to share the video of the premiere performance of SWAN.
This is the final update to our collaborative project. Hope you've been enjoying what you saw/heard.
If you wanna know more about SWAN and how it came to life you might be interested in reading the interview I made with Emma Hospelhorn of Dal Niente:
http://www.dalniente.com/news/2017/3/26/interview-murat-olaks-swan
SHOW MORE UPDATES▼
March 21, 2017: SWAN: THE RECORDING
Posted by: Murat Çolak
I and Ensemble Dal Niente are very excited to share the recording of the premiere performance of SWAN.
The premiere was part of Hard Music Hard Liquor curated by Ensemble Dal Niente. It was the closing event to the Chicago-based Frequency Series Festival.
Thanks again to the NewMusicUSA for the generous support. Further documentation is to come!
Enjoy!
February 12, 2017: VIDEO TRAILER
Posted by: Murat Çolak
Very excited for the premiere of SWAN next week at The Constellation!
Enjoy the trailer!
January 14, 2017: February 19th at the Constellation Chicago
Posted by: Murat Çolak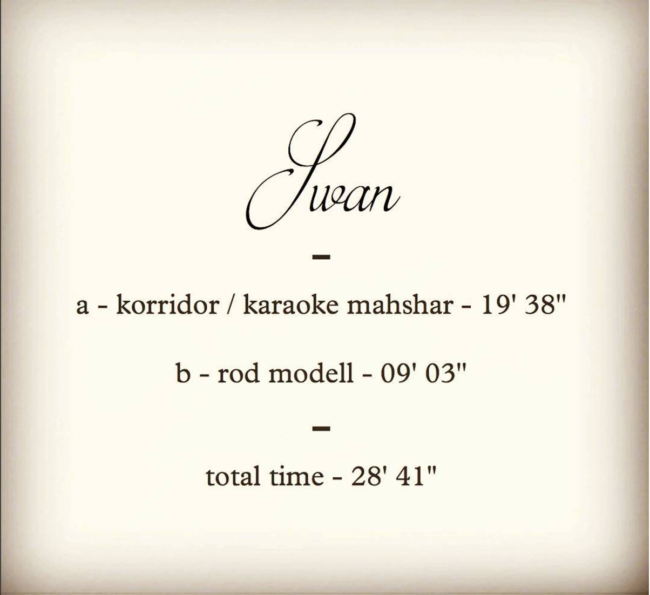 Many thanks, again, to Ensemble Dal Niente and New Music USA!
Looking forward to seeing you at the Constellation Chicago on February 19th!
Overview
Trance-figured Night is a project which involves the commissioning and performance of an ambitious new work for ensemble and electronics to be composed by the Boston-based Turkish composer Murat Çolak for the Chicago-based contemporary music collective Ensemble Dal Niente. The piece will receive its world premiere in Chicago on the February 2017 incarnation of its Hard Music, Hard Liquor series.
Why trance?
As passionate advocates for the most challenging music created in the 21st century, Ensemble Dal Niente presents and performs music in ways that redefine the listening experience and advance the art form. In Murat's work, the listening experience takes the form of a trance-state reached via exposure to high-energy sounds and intense performance situations. Trance initiates performed listening. Concepts and sound-worlds Murat creates originate in the sacred chants of the İstanbul tilâvet tradition, repetitive drone music of Central Anatolia and underground electronic dance music of İstanbul's (as well as Chicago's) club scene. All these distinct musical cultures invite audiences to take part in a collective-trance-state either through performance in the form of singing, dancing or other types of performative listening.
Murat will be bringing these influences to bear in a 30-minute-long 'trance piece' for eight live performers involving amplified instruments, synthesizers, and fixed electronics to be realized by the noted performers of hard music, creating a night of sonic ecstasy.
Having worked for many years with American and European composers, Dal Niente now looks forward to extending its reach through collaborations with emerging artists of ever more diverse musical backgrounds and contributing to the evolution of concert music on a larger scale. After collaborating on performances and recording sessions of Murat's earlier works, the Nientes and the composer now join forces to bring about this unique creation. With the realization of this project, the repertoire will gain an ecstatic piece that aims to widen the scope of the concert music experience. Moreover, American audiences will have the chance to get to know the work of a young, international artist.
The Hard Music, Hard Liquor 2017 program will also include an ensemble piece by Huck Hodge and virtuosic pieces from the 21st century repertoire.
The live performance will be documented with high quality audio and video recordings.